You've probably heard the latest buzz about NFTs, from Jack Dorsey selling his first tweet for an impressive $2.9 million to a twelve-year-old earning $250k from selling cartoon whale NFTs. You may have even heard a word or two about collectors who sell their digital assets for as much as $20,000 profit after barely holding them for a day. Whether you are a trader, digital artist, or musician, curious about the NFT hype in general, or whatever brought you to buying NFTs in the first place, you've come to the right place. In this comprehensive guide, we'll take you through the process of buying NFTs and shed light on everything you need to know as a beginner to buy your first NFT.
4 Simple Steps to Buying NFT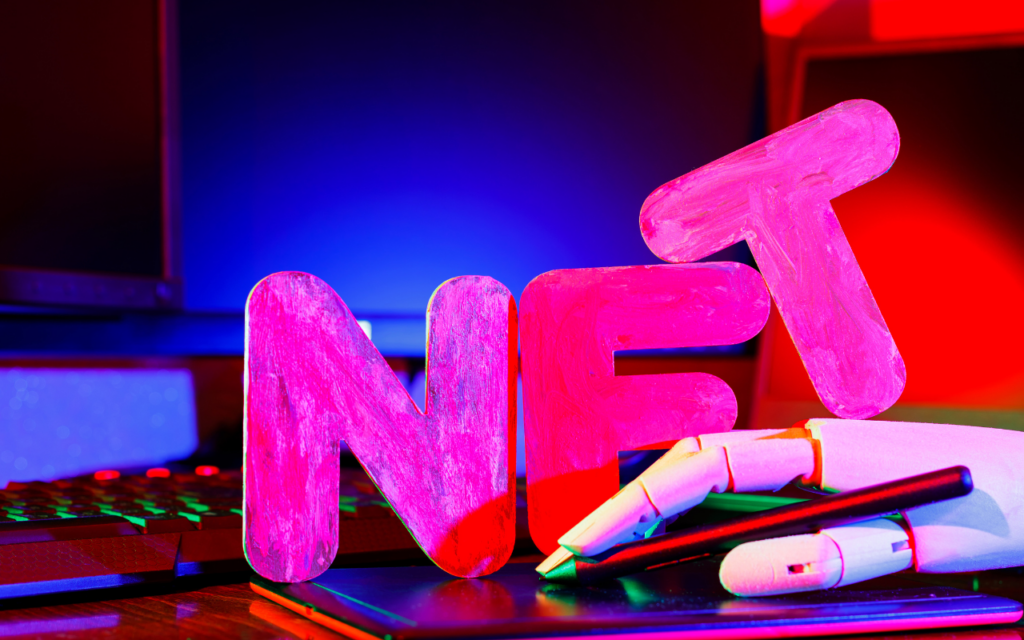 According to DappRadar, NFT sales reached a whopping $25 billion. Still, the majority of people are clueless regarding how to buy NFT tokens. Indeed, the hype for NFTs, short for non-fungible tokens, is real, as is evident from Beeple's remarkable piece "Ocean Front," which sold for an astounding $6 million.
In addition, due to the excessive number of NFT projects emerging, most people might feel overwhelmed about buying NFTs. If you also wish to enter the NFT game but have no idea which NFT to purchase or how to buy it, here are four easy steps to buying your first NFT.
The first thing you need to determine before buying your first NFT is deciding on what blockchain you want to purchase them from. Doing this will help you regulate what web3 best suits you and your needs and objectives.
Of all the blockchains, Ethereum has to be the most popular platform to buy and sell NFTs. Still, a handful of people might prefer to use other blockchains for various reasons, some of them being faster transaction times, lower gas fees, and ease of use.
Other renowned blockchains like Wax and Polygon offer users a relatively inexpensive and efficient means of conducting transactions on the blockchain. Still, they're not the most preferred blockchain for buying top-quality NFTs. 
Once you've chosen your preferred blockchain, you can decide which wallet you want to get cryptocurrency and purchase your first NFT.
The process of creating and setting up a crypto wallet is as simple as downloading an application and then making your account. Your crypto wallet is the utmost key to exploring the decentralized web. It is much like a traditional wallet like Venmo for fiat currencies, or Cash App, except that it is digital. 
The primary reason for having a crypto wallet is to have a safe and secure place to store your NFTs and cryptocurrencies. Currently, compatible crypto wallets are blockchain specific. Hence, you are required to set up a wallet that supports interaction with your chosen blockchain and the NFT marketplace, which we'll cover in the next step. 
In addition, your wallet also comprises your blockchain address, which will infinitely be stored on the blockchain, listing all your transactions. Phantom (for Solana) and MetaMask (for Ethereum) are the most prevalent options for choosing your NFT wallet. These wallets have mobile app versions and are browser add-ons. 
The set-up process for crypto wallets is relatively easy, quick, and effortless. You do not have to submit any documents either. The primary set-up process comprises the following steps:
Adding it to your browser extension

Setting up a crypto wallet
Once your crypto wallet is all set up and running, you must deposit the applicable cryptocurrency into your wallet. 
Create an Account
For the majority of people, the simplest way to do this is to create an account on a crypto exchange like Coinbase, Binance, or FTX, purchase cryptocurrency from there, and send it over to your wallet address. 
Wallet addresses are typically a string of alphanumeric characters and can be observed at the top of the respective wallets. 
Another method is to buy cryptocurrencies directly from crypto wallets. This is usually the case if the respective fiat on-ramps are available in your hometown. To view the fiat on-ramp options, click on "Deposit" if you use Phantom and "Buy" if you use Metamask.
Pick Your NFT Marketplace
The third step is all about choosing a platform to buy and sell NFTs. You can pick from various NFT marketplaces to purchase your NFTs. However, some tend to be more prevalent than others for multiple reasons. Here are some popular NFT marketplaces to choose from:
OpenSea is one of the most renowned NFT marketplaces and the best place to buy NFTs. Being the current leader, it is where the majority of the people, especially newbies, commence their NFT collecting journey. 
Using this platform, you can create, buy, and sell NFTs on Ethereum, Klaytn, and Polygon. OpenSea offers a vast range of NFTs, from music and gaming to photography and 1 of 1 art pieces, and the list just goes on. 
Rarible is yet another prevalent NFT marketplace that offers a vast range of NFTs. These NFTs are much like that of OpenSea because they are creator-friendly and offer similar collection types. 
The primary difference is that they support different blockchains, and Rarible is a community-owned platform. It supports Flow, Tezos, and Ethereum. In addition, Rarible enables users to buy NFT with credit card if they prefer doing so. 
LooksRare is a relatively new marketplace and, at present, only supports Ethereum-based NFTs. Like Rarible, it is a community-owned platform, and 100% of the trading fees developed on LooksRare are given to those with a stake in the LOOKS tokens. These tokens can be earned when users buy or sell their NFTs on LooksRare. 
SuperRare is another marketplace that emphasizes specific art pieces, making it the ideal market for NFT art. It can be considered a digital art gallery for artists to list their NFT art pieces. Currently, SuperRare also only supports Ethereum. 
When choosing the NFT marketplace to buy your NFTs from, it all comes down to the type of NFT you're interested in purchasing. There were just some of the most renowned NFT marketplaces, and there are many more where they come from. 
Find the Right NFT for You
Finally, the last and most crucial step of purchasing your first NFT is to look for the right NFT that best suits you, your interests, and your objectives. Essentially, NFTs are digital certificates of ownership that apply to many things, including videos, music, gaming items, art, sports collectibles, etc. 
So, before you jump on the bandwagon of buying your first NFT, you must be clear on what type of NFT you want and why you are buying it. When searching for the right NFT to buy, the first question is, "What do you aim to gain from this NFT purchase, and do you believe this particular NFT will be fruitful in helping you accomplish your objectives?"
Once you answer these questions, you'll be able to find an NFT you actually enjoy. Moreover, you won't regret your purchase even if that specific NFT's monetary value decreases significantly (since it is quite possible). 
As an NFT investor, you need to know that every investment is different. However, the fundamentals of investment are mostly the same. So whether you're purchasing cryptocurrency, shares in a company, a piece of art, or your first NFT, you should know and understand what you are buying.
Knowing Which NFT to Buy
Significant differences exist between the NFT sectors, so your choice should reflect your interests. If you want to purchase an NFT solely because everybody in your circle and beyond is talking about it, you will need to dig deeper. Or else, it will be just like buying something solely for the sake of owning it, with little concern regarding what it does or how it benefits you. 
For instance, if you are a gamer and you're interested in purchasing an NFT avatar. Your needs will vastly differ from a soccer fan who wants to own an NFT of their favorite sporting moment. One of the most popular kinds of NFTs that are in high demand is NFT art. 
What is NFT Art?
NFT Art is a form of digital art that's represented by an NFT and is usually minted (created) and sold on different marketplaces. The best marketplaces to buy NFT art include Rarible, LooksRare, OpenSea, and many more. 
The NFT art ecosystem replicates the realm of museums, art stores, and galleries, just like DeFi (decentralized finance) copies traditional financial products. 
Types of NFT Art
Regarding what can be counted as NFT art, you must know that practically anything can be turned into a non-fungible token and considered NFT art. Consequently, the market for NFT art is divided into different types. Here are the most popular NFT art genres you'll come across in the market:
Crypto art, often referred to as blockchain art or digital art, is a tokenized work of art. It comes in the form of programmable art and typically features a diverse mix of creativity and technology. 
Crypto collectibles are online collectibles that usually pose significant value to a particular group of collectors. Usually, these digital collectibles comprise unique traits that make them popular, likable, and stand out even more than others. 
Generative art is the third form of digital art that's created using a set of pre-established rules and algorithms that software can abide by on the artist's behalf to produce a piece of digital art. Hence, generative art is sometimes defined as algorithmic art. 
These works of art can also be found in NFT format, and they're stored on-chain and created using smart contracts. They're categorized as the most valuable form of digital art in the NFT market due to their uniqueness and complexity. 
Is NFT Art Worth Investing In?
If you have your eyes on NFT art, you probably want to buy NFTs that are valuable and meaningful to you or that help support your favorite artist(s). Still, it is only worth buying NFT art if it's available at a reasonable price level. 
When investing in NFT art, you must approach the seller just like any traditional investment. Don't just invest in it for fear of missing out or because your friends or family are investing in it. Instead, it is advised to research and weigh the risks involved before going on a massive shopping spree. 
Can You Buy NFTs with Credit Cards
While the objective is still the same, there are different ways fiat payment works on different NFT marketplaces. There are two ways that fiat payment works for NFT: 
Buy Cryptocurrency with Credit Card
If you are an NFT buyer or collector, you can use your credit card to top up funds in your crypto wallet when there is insufficient crypto. This is incredibly helpful if you have already created a crypto wallet and require cryptocurrencies for added flexibility. 
So, for instance, if the NFT you want to buy has a floor price of 10 SOL (Solana), but you only have 5 SOL in your wallet, you can use your credit card to add funds to your NFT crypto wallet to purchase more SOL. 
This is an excellent way for newcomers to adjust to the NFT space, as the cryptocurrency will be directly deposited into their wallet, making it relatively easy to buy NFTs. 
Purchase NFTs Directly with Cards 
The second way to buy NFTs with a credit card is to use your card to pay for the NFT in full amount. For instance, if an NFT collectible is up for 200 MATIC (Polygon), equivalent to $185.33 (in this scenario, 1 MATIC = $0.9266), the total amount of $185.33 will be deducted from your credit card and paid for the NFT. 
Meanwhile, the on-ramp solution provider will convert this amount in dollars to MATIC. Having said that, you must know that purchasing NFTs with credit cards requires an exchange fee for converting fiat to cryptocurrency. 
ALSO READ: Important Benefits Of NFTs
Final Thoughts
Currently, there is a vast supply of NFTs, which is only expected to increase. This is why it's vital to understand the reasoning and questions before buying your first NFT. Ultimately, it is up to you to know what you want and make a spontaneous decision to get your hands on what you want from your NFT purchase.