The NFT world is overgrowing, and every other person is gaining an interest in it. This has led the creators to create digital assets of their own and increased the demand amongst collectors to collect them as NFTs. While digital assets must be converted into digital collectibles, NFTs must also be minted to complete the entire chain. Minting an NFT means publishing your digital asset on a blockchain to be available for sale or trade. If you are looking forward to owning an NFT, it is essential to understand that it requires minting. The process of minting an NFT is quite interesting. This guide tells you How Long Does It Take to Mint an NFT and what is required to get it done. 
What Is The Time Required to Mint an NFT?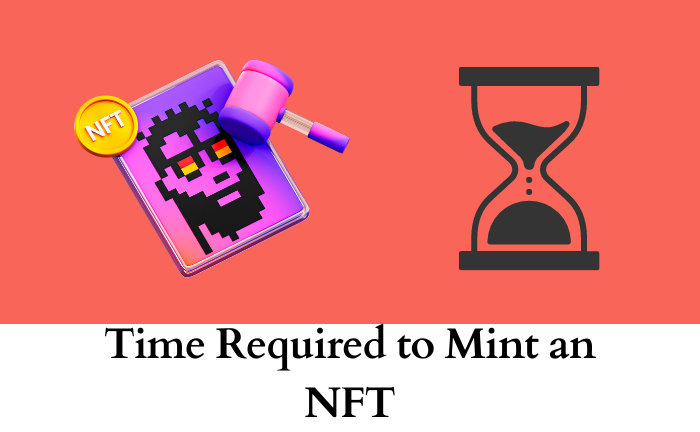 The first step to minting NFTs is to have a digital asset that must be converted into an NFT. So, before you move ahead, it is vital to create a digital asset since it requires more time than minting an NFT. 
Once you have your digital asset ready, follow the steps below, and you can have your NFT minted in less than 30 minutes. While the process of minting NFTs doesn't take very long, one should not get carried away knowing that the process is easy. 
The key is to ensure the digital asset that has been created is the complete and final version, as once it is minted, you cannot go back into making any changes or tamper with it. 
The only way of making edits to your digital art is by permanently destroying the token, which means losing all your resources, money, and time allocated to it. 
Steps to Minting an NFT
Minting an NFT depends on the availability and readiness of your digital asset. While minting requires little time, the process that takes most of your time and energy is creating digital content. 
Here are some basic steps you must follow before taking your digital asset to be minted as an NFT. 
The first and primary step in minting NFTs includes the unique thought or idea required to establish a digital asset. 
An entire world of options can be considered to create that exclusive digital asset, whether it is music, books, videos, animations, etc. The key is that it must be distinctive.
The next step is to purchase crypto that is used on the blockchain you have considered. 
The blockchain will have a significant impact on the decision of marketplace and wallet services that you need to decide further, as there are only a few options that work well with each other. 
A wallet connected to the internet is then required to help store the funds. A non-custodial wallet, also known as the crypto wallet in this case – is an application that allows the users to connect with the network and their account. 
Minting an NFT requires access to a non-custodial wallet, so you can always access your money without the involvement of any third party. Simultaneously, it can also be said that you own the key to your locker.  
Putting our Digital Assets out there
Once you have all the above sorted, the next step is to choose the marketplace where you will publish your digital asset for listing. At the same time, it will be made available for the collectors to purchase the same. 
Using a reliable platform that lets you sell NFTs to anyone is one of the most important steps. This is a crucial decision as some marketplaces charge you a fee to mint NFTs and additional costs such as listing an NFT, firing up the account, and performing transactions on the platform. 
For this matter, HenriPay is a highly recommended site for putting your digital assets out there. 
Adding Digital Assets to the NFT Collection
Every marketplace differs a bit from the others in creating an NFT. However, the core idea behind typically involves selecting the digital artwork you want to mint, entering the details such as the name of the collection, a brief description about the artwork, price, etc. 
Once all of this is done, you can then proceed ahead with the execution of the minting process by adding the digital content as a part of the NFT collection. After having the NFT in the collection, your asset can be used for listing or marketing on the platform. 
Managing the NFT Business
Once your NFT is listed and running, it's time for you to start working on engaging with potential buyers. Keep monitoring all the online activities, and communicate with the users, which can help build the relationship required for your new NFT business. 
You may also create more NFTs to create a collection which is one way to attract more collectors or potential buyers. 
It is pertinent to note that whichever NFT or collection of NFTs you upload on a single marketplace can also be transferred or sold to another one (of course, this will cost you a certain fee). 
Benefits of Minting an NFT
If your objective in minting an NFT is to expand your business or create a marketplace for your creative artwork, putting in time and money is the best thing you can do.  This will result in the following set of benefits: 
Once an NFT is created, owners can be the collector of the digital asset offered for sale.

Minting an NFT makes it possible to preserve the value of the digital asset.

The fact that minting an NFT is an easy process encourages small artists to create new content and be explored it easily.
Conclusion
Minting NFT is a job that requires little time, but the entire journey from creating a digital asset to having it available for listing takes all the effort. In addition, the process of minting NFTs may vary from one marketplace to another. 
However, fundamentals such as the requirement of creating a digital asset, purchasing a token, access to a wallet, and an NFT marketplace for listing and selling are the same for all. 
If you are considering putting your digital artwork for a showcase, follow the above steps and get going towards the journey of establishing your own setup.