NFTs have recently gained much attention over the years. While you may be reading about it for the umpteenth time about what they are and how one can earn from them, the question here today is whether NFTs can be created without prior coding experience or not.
We will skip the unnecessary information about NFTs, which you are already aware of, and come straight to the point about whether or not NFTs can be created without coding. Simply put, NFTs can be made quickly without coding, but the question is how? 
How to Create NFT Art Without Coding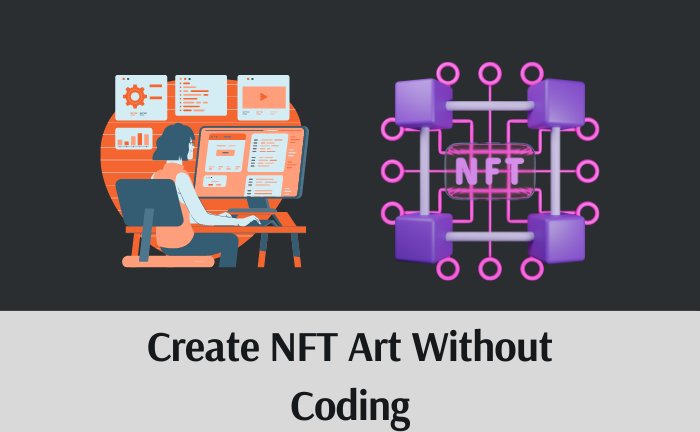 The first and foremost point of discussion is how NFTs are created. The recent shift towards NFTs has encouraged many investors to show their interest in digital creativity and come up with how to create digital assets. 
Once you have that figured out, the next thing is to focus on creating an NFT to make that digital asset a collectible. Most people think this is a tricky part requiring expertise or sound coding knowledge; however, that is not the case. 
One doesn't necessarily need a coding skill to make an NFT. Of course, if you do, that's an added advantage that may increase the bids on your listing. However, as a beginner, it is acceptable not to know the coding skillset. Let's find out step by step how NFTs can be created without coding;
Planning Out the Characteristics and Rarities of Your NFT
When dealing with digital assets converted into NFTs, knowing what you are dealing with is essential. Before moving ahead, make sure you have jotted down all the traits of your NFTs and what differentiates them from others in the marketplace. 
To make the NFT more worthy, one needs to add as many different features as possible. Of course, it is essential to note that going overboard with anything will confuse your viewers or potential investors.
After the characteristics are figured out, move to the next part, i.e., rarities. For this, you can take into account the following factors;
Count of features your NFT holds

What makes your NFT unique

The overall charm of your NFT
Creating the Digital Asset
Once you have the traits and rarities sorted, the next step is to create the NFT image. Keeping in mind the characteristics and rarities of your NFT, create a kind of artwork containing all that. This is the moment that allows you to bring out that creative element. 
One must remember that there are no limitations to whatever you come up with. The key is to think out of the box to make your digital art look distinctive. Creating digital art can be done in the following ways;
Designing it yourself

Using AI art generators

Recruiting a freelance designer
Generating NFT Collection
As we are discussing creating an NFT without coding, the best way to go about it is to use platforms like no-code NFT generators that help create digital art tokens. 
The most important point here is to recall the traits and rarities and use them for previewing how your collection looks after using the no-code generators.
Minting NFTs
Now, this is one of the most crucial steps of the overall journey, as it involves converting your digital artwork into an NFT and making it available for sale. 
Your rarities will help you define the selected blockchain and determine the price to go for listing. For this, a marketplace must list actual NFT art for the public. 
When choosing a platform for the marketplace, make sure you are considering the following points;
Selection of blockchain on which your NFT will be minted on

Reliability of the marketplace

How known the marketplace is
While minting an NFT doesn't take too long, it also depends on the kind of marketplace you are opting for, so choose wisely. 
HenriPay is one of the most renowned and trusted platforms that fulfills all the three points mentioned above for the purpose of selling NFTs. Moreover, it provides a vast range of acceptable FIAT and blockchain payments. 
Marketing of your NFT Art
Last but not least, the next step is to promote your digital art / NFT collection. This can be done in many ways, such as using social media, online ads, word of mouth, etc. 
The idea behind this is to showcase your NFTs in front of as many people as possible so that chances of sales increase. 
In short, the more people that can view your listing or know about it, the higher the chances of your collection being sold. Some of the ways that can be considered for marketing your NFT collection can be as follows;
Twitter

Creating eye-catching Instagram posts mentioning your collection

Working with crypto influencers

Running online ads
Benefits of Creating an NFT Art Collection
Creating an NFT art can be a fun experience. Let's take a look at how creating an NFT art collection can be rewarding for you;
Creating such a collection allows you to come up with art that is entirely unique

NFTs are placed on a blockchain, which means that whatever you upload will be highly secure

There are various marketplaces out there where one can buy and sell their collection

Selling the NFT collection allows you to earn a passive income

Owning an NFT collection gives the creator of digital artists more control over what they want to produce

There is a high likelihood that the value of NFTs will be increased
ALSO READ: Buy NFTs – How Do You Do It?
Conclusion
Even though the NFT world has sought much popularity in no time, it is still in its early stages, which means there is much room for opportunity and growth. Getting in early will offer numerous opportunities and give you an edge over other artists or sellers. 
The above-stated beginner-friendly step-by-step guide is a classic example of how you can create NFT art without coding so you can start and grow your NFT career without any limitations and dependencies on others. 
As long as you have the right information and understanding, you know how to go about it. By putting your creative mind to the right use and starting working on creating your NFT art collection, you can disclose an exciting business opportunity.