The fantastic stories about selling non-fungible tokens (NFTs) are undoubtedly one of the most significant reasons that NFTs have received so much attention in the past few months. However the market is a tricky one and you need to get as much information before making your first investment. Once you have read this blog, you will be one step closer to getting in on all the action. Indeed, NFTs can sell for vast sums of money. Whether you want to get in on the action by making distinct and creative artworks and minting your own NFTs or you bought an NFT you wish to sell, here's everything you need to know on where and how to sell NFTs.
How to Sell NFTs the First Time in 5 Steps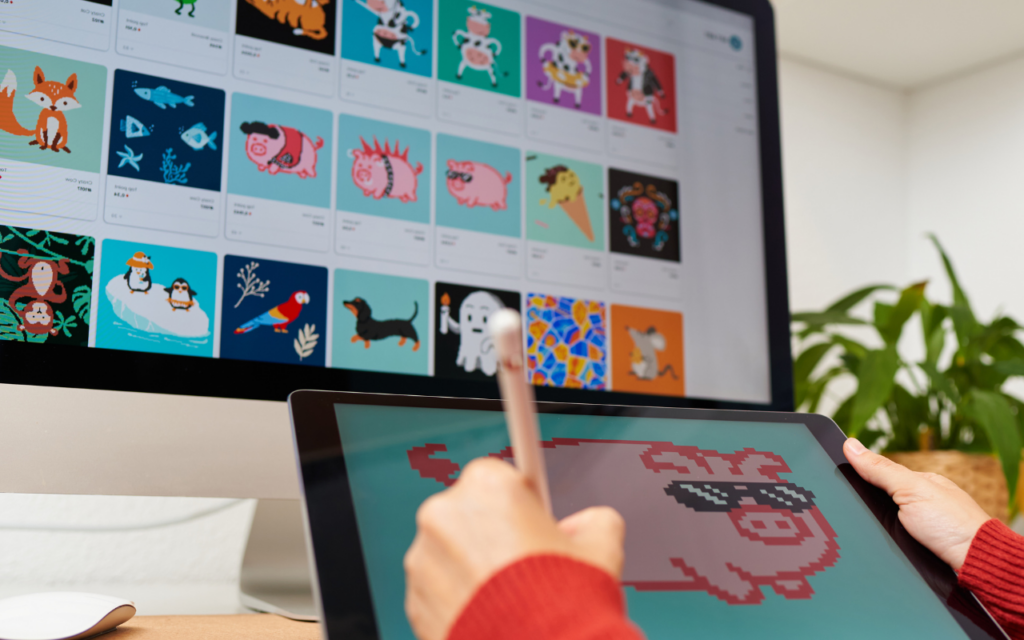 NFTs can be referred to as unique digital collectibles represented by physical and digital items. These assets are non-fungible, meaning you cannot swap one NFT with another. Contrary to that, assets such as fiat and cryptocurrency are fungible, which means you can easily trade them with one another. 
In the digital world, where files can be easily and infinitely duplicated, NFTs work as a digital certificates of ownership that can be bought or sold. Still, in this scenario, that certificate is stored on the blockchain, a decentralized database. Selling NFTs calls for a marketplace account (or the person should be willing to purchase privately) and a crypto wallet. 
If you want to sell an NFT you've previously bought, you will probably already have a marketplace account and a crypto wallet. However, these two things are necessary to create and sell your own NFTs. Having said that, here is a 5-step guide on how to sell an NFT for the first time. 
The first step of your NFT selling journey begins with choosing a platform. You can choose from various options, including marketplaces such as OpenSea, Binance, Looksrare, Blur, X2Y2, and direct-to-consumer (D2C) platforms like Shopify.
Typically, this selection depends on the type of NFT you want to sell and the charges involved in trading the cryptographic asset. 
Popular NFT Marketplaces
The most important question that comes to mind for newbies is, "Where do I buy & sell my NFT?" When you buy a new NFT this is often done from the native webpage of the project. However once bought all NFTs can be found on these digital marketplaces. The majority of the marketplaces are open and easily accessible, allowing anybody to join in. 
However, some marketplaces are more exclusive, and sellers need the invitation to enter. One highly effective way to find the best site to sell NFTs is to look at NFTs you admire and see the marketplace they are listed on. 
In addition, you will need to check if the marketplace accepts the cryptocurrency you use. Now, let's explore some of the best places to sell NFTs and what they have to offer to NFT sellers:
OpenSea is the world's largest and most popular marketplace for buying and selling NFTs, including game items, crypto art, and exclusive online collectibles. It supports the two most common NFT standards: ERC-1155 tokens and ERC-721. As a seller, you can choose between Polygon and Ethereum while listing your NFT in this marketplace. 
OpenSea has a 2.5% trading fee, indicating you will get slightly lesser than what you sell your NFT for. For instance, if you sell your NFT for $200, you will receive $197.50, whereas OpenSea will keep $2.50. Note that especially on Opensea there are security procedures to prevent whitewashing as much as possible.
Rarible is yet another incredible platform to sell NFTs, allowing NFT owners to put up their digital assets for sale. This digital marketplace accepts assorted tokens across various categories, such as domain names, games, music, videos, and art. 
To accept payments and sell your NFTs on Rarible, you'll require a wallet compatible with 1 of the 3 blockchains connected to the marketplace: Flow, Ethereum, and Tezos. Regarding the fees, Rarible works much the same way as OpenSea and takes 2.5% on both the seller's and buyer's sides from every sale made on it. 
Binance, one of the largest global cryptocurrency exchanges, boasts its own NFT marketplace. This fantastic platform lets you sell NFTs from various collectibles, arts, entertainment, sports, and gaming categories. It supports two blockchains: Binance Smart Chain (BSC) and Ethereum. 
Binance charges NFT creators and sellers a flat 1% trading fee, which is the market's lowest rate. Moreover, sellers pay a 1% royalty fee if they own an NFT made by someone else. 
Selling NFTs on Shopify
Popular online platform Shopify started accommodating NFT sellers in July last year. The platform's infrastructure enables creators and resellers to provide a direct-to-consumer experience using their own branded storefronts. 
Rather than using a marketplace to sell NFTs, each NFT seller can sell their digital assets directly to their customers. There are various other benefits to this. For instance, NFT sellers can accept credit or debit cards and mobile payments via their storefront. Shopify has its own gateway for payments, known as Shopify payments. 
Sellers do not have to pay transaction fees on any payments that are processed through this gateway. In addition, you can include an alternative method of payment to your Shopify NFT store, such as cryptocurrencies. Shopify supports renowned blockchains like Polygon, Ethereum, Near, and Flow for NFT listing and selling. 
Listing your NFTs in the marketplace for sale requires having a cryptocurrency wallet. Some of the most renowned cryptocurrency wallets that back NFT sales include Coinbase, MetaMusk, and Trust Wallet.
MetaMask enables you to connect to the most popular blockchain, Ethereum, to buy, sell, or trade your NFTs. 
Trust Wallet is an excellent option if you want a mobile cryptocurrency wallet. It supports NFT buying and selling and enables you to store tokens in a safe and secure wallet. 
Coinbase Wallet enables you to send and receive NFTs will usernames instead of public blockchain addresses. This establishes a similar experience to the digital wallets people are already familiar with and use, e.g., PayPal.
There is a famous saying that non-fungible tokens are worth what anybody is willing to pay for them. However, there are always a couple of factors involved in affecting their prices and how buyers usually value them, such as:
Some NFTs comprise unique traits bound to escalate their prices. So, if your NFT possesses a one-of-a-kind feature, you can price it above the historical average and still expect people to buy it. 
The 30-day average price has always been the price trend of NFTs in practically any category. Hence, you can assign a target price that is ideally chosen to the average value of related tokens over the last month. 
The utility of the asset in question will govern whether a high price can be demanded for your NFT. Some important questions that can help you determine this are "Can your NFT be exchanged for a digital item in a certain game or metaverse?" or "Are buyers allowed to be a part of an exclusive club that is granted benefits such as discounts on future purchases?"
Someone who has established a reputation and following in the NFT space can demand a higher price for their digital assets. However, if you are relatively new to the market with no sales history, it is ideal to start closer to the historical average price and gradually make your way to the top. 
Once you've established a price for your NFT, it is time to create a listing. If you are using a marketplace for this, you must log in to your NFT platform and click on "Create" at the top right. You can choose from a single or multiple collectibles based on your asset's supply. After this, you must enter a description and title for your NFT. 
Your title should be appealing and linked to your virtual asset, but at the same time, you must ensure it does not make a hard sell. In the description section, you must talk about your token's purpose and if there is any theme behind it. 
In addition, if there is any unique factor, you can mention your NFT's rarity tier and state if your buyers will receive any exclusive perks beyond the asset's ownership. Note that even the slightest hint is enough to attract the attention of potential customers. 
After this, you must choose the listing you wish to create. For instance, OpenSea enables you to choose from two options for your listings:
The on-sale option is your best bet if you wish to sell NFTs for a fixed price. To create an on-sale listing, you must enter your NFT's price and determine the length of time you want that listing to stay active. 
This type of listing requires setting a minimum price for your NFT. This is followed by auction, where people bid for your NFT. The highest bidder gets to buy your asset. 
Once you've listed your NFT, stay vigilant and watch out for offers from prospective buyers. Even though most platforms alert you when somebody places a bid on your listing, it is good to frequently check so that you do not miss out on any requests. 
If you have selected a fixed price and somebody decides to purchase your NFT at that price, it will be deemed a public sale. In this situation, you will receive a notification that your digital asset has been sold and your NFT account has been credited with cryptocurrency or fiat. 
However, when there is an auction, you will receive notifications about the various bids people have placed on your NFT. In addition, you might even receive private offers from some buyers who propose a specific figure for purchasing your NFT. 
But, you must be vigilant as some offers could often be lower than the minimum price (such offers are usually sent by bots or rivals trying to take advantage of the owner's oversight).
Frequently Asked Questions (FAQs) Regarding NFTs
Here are some commonly asked questions regarding NFTs that will help you get a better understanding of the topic. 
Can Anything Be An NFT?
From real estate luxury goods to art to music, NFTs have influenced several industries. The primary reason for this is that any digital file can be stored as an NFT, be it music, artwork, videos, real estate, documents, or even alcoholic beverages. Another reason is the underlying technology that offers ownership certificates. 
Put merely, NFTs grant ownership rights to the token holder. In addition, even physical items are not vastly digitized as non-fungible tokens. The NFTs ensure ownership over the physical item. Long story short, NFTs are a game-changer, and here are four popular examples of NFTs in high demand.
Earlier, artists had to rely on record labels to sell music, which most budding artists couldn't even access. However, music NFTS has genuinely paved the way for musicians. Thanks to it, singers can now release songs on their own and earn royalties with every resale. Moreover, they can set a royalty fee of their own liking.
Art is the most significant industry to have procured the most out of this NFT craze. Traditionally, artists had to pay large sums of money to auction houses and galleries to showcase their artworks. With the help of NFTs, they can easily display their works of art hassle-free. 
Surprisingly, NFTs also comprise the ownership of physical items, and real estate is one such sector that has vastly benefited from this. The presence of NFTs no longer requires the need for a real estate agent, the payment of several fees, or the filling of tons of paperwork. 
Event tickets are also emerging as a famous NFT use case. Both online and real-life events can utilize NFTs as tickets. Since they cannot be forged or hacked, they can even work as keys to your site. 
How to Sell NFT on OpenSea?
Here's what you need to do to sell your NFT on OpenSea:
Create your NFT on OpenSea or buy the project.

Click on your profile icon and choose the NFT you wish to sell. Next, click on the "Sell" button.

Choose your type of sale: Timed auction or fixed price. In addition, OpenSea allows you to reserve item(s) for specific buyers.

Initialize your cryptocurrency wallet (1-time gas fee) if you have not sold NFTs on OpenSea before.

Sign the transaction to verify the listing. If you created your NFT somewhere else, you must submit an additional approval and signature. 
Once your item has been successfully listed for sale on OpenSea, you will receive a popup confirmation message. 
How to Sell NFT on Rarible?
Here is everything you need to know how to sell NFTs on Rarible:
Create your NFT on Rarible

Once you mint your NFT and choose the NFT you wish to sell, you can press the "Sell" button.

There are three sale options you can choose from: Open auction, timed auction, and fixed price.

In the fixed-price sale option, you can put your NFT for sale at a price anybody can purchase. In an open auction, your NFT will be displayed as "open for bids," and anyone can make an offer anytime. Finally, you can sell your NFT to the highest bidder in a timed auction. 
How to Sell NFT on Binance?
Here is everything you need to know how to sell NFT on Binance:
Create your NFT on Binance if you have not created it already.

Click "List NFT" on your non-fungible token.

Choose your method of sale: Highest bid or set price.

Enter your sale price (for the set price option) or a minimum bid amount (for the highest bid option) and set the other options as per your liking, e.g., the date and time for the sale.

If you are satisfied with the fees associated with selling your digital asset, click "Submit."
Your NFT will be assessed automatically before you list it on the Binance NFT marketplace. This usually takes around 10 minutes, after which you can observe a popup message stating, "Listing Complete."
READ MORE: How Web 2.0 is Evolving to Web 3.0
Is There A Need For A Business License To Sell NFTs?
Another thing most people often wonder is, "Do you need a business license to sell NFTs?" Well, if you intend to create and sell your NFTs in the marketplace or through your own proprietary marketplace, you'll require an NFT license agreement.