In one form or another, music is an art that significantly permeates all walks of life. Known as one of the oldest industries in the entertainment sector, it has been observing a vast array of technological developments since its inception, facilitating its evolution over time. One of the newest progress made in the music domain is the inauguration of non-fungible tokens (NFTs). Music NFTs were introduced to bring more significant transparency and trust to the music industry. NFTs are a fast-developing technology, and anyone aware of the latest word in the world of technology will agree that they've become the talk of the town worldwide. Various sectors are influenced by NFTs' potential, and the music sector is clearly no exception. Let's talk about Music NFTs and the future of music labels.
Music NFTs and the Future of Music Labels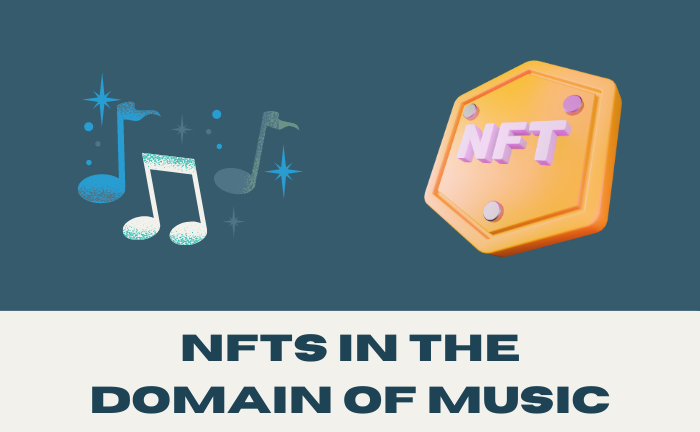 Music NFTs are new and contemporary ways of sharing, collecting, and selling music. They can be created against music videos, songs, or entire music albums. Moreover, they might represent various rewards, as well as be used as currency for concert tickets or other merchandise.
Its emergence has offered musicians an excellent opportunity to monetize their work by creating one-of-a-kind digital music NFTs, which can be traded on different NFT marketplaces. 
With this novel trend, musicians have a better chance of earning more significant royalties as their ownership rights are documented on the blockchain, and nobody can tamper with it. 
Hence, whenever someone sells music NFTs, their creators receive their rightfully deserved payments. Conversely, music enthusiasts can display their support and love for their desired musicians by buying their music NFTs and earning some financial benefits.
Each NFT in a marketplace stands out from others. Hence, it can support music companies and musicians to distribute their online content over the web more efficiently. This is the primary reason why NFTs in the entertainment and media industry can be great implementers of non-fungible tokens.
Even though NFTs are much like digital art files, they can also be combined with smart contracts to infuse additional benefits or terms with each purchase. Hence, NFTs in the music industry can tailor the contracts per their terms and conditions. 
Implementation of Music NFTs
Having said that, here's how music artists and music companies can gain new revenue opportunities with the implementation and usage of NFTs:
New Platforms for Music Artists to Sell their Music
NFT in the music sector can aid musicians in having multiple options to sell their music. Instead of rushing over to the most renowned music labels, they can simply create and distribute their music based on their own conditions. 
Hence, with the help and support of effective NFT marketplace development, music artists might have more liberty and freedom of choice. New musicians can benefit from a plethora of opportunities to display and market their talent on the right platform. 
By releasing their music on popular NFT marketplaces, they can establish a better and closer connection with their fans and followers. Providing freedom to music creators is one of the best features of NFT marketplaces.
Decentralized Streaming Platform
The rise and growth of NFTs will also result in the emergence of novel decentralized streaming platforms that enable content creators to participate without limitations. In addition, this can serve as an excellent use case of NFT in the entertainment and media industry. 
For instance, Audius is a brilliant example of a decentralized streaming platform that operates on the NFT concept. Hence, NFT in the music industry is bound to go through significant changes and influence how music creators implement technological advances. 
Significant Reduction of Middleman
The music industry comprises several participants to produce and distribute a music piece. NFTs in the music industry can drastically minimize the involvement of mediators and aid musicians in becoming more independent. 
The chain of agents, managers, distributors, lawyers, record companies, and other stakeholders can also be eradicated with the help of effective NFT marketplace development. This, in turn, will help artists obtain greater control while creating and distributing their music.
Are NFT Record Labels Actually Feasible?
Without a doubt, NFTs are becoming mainstream and have taken over the web by storm. According to a recent report, more than $86 million worth of NFT sales were made in 2021. In addition, trading reached a whopping $17 billion in the same year. 
As the creation and market for NFTs continue to rise, both signed, and independent artists are rushing to the medium. These NFTs have created a new way for artists to collect, sell, and create a community centered on their music while earning more than they ever could via conventional record sales. 
Famous electronic music producer and DJ – 3LAU – sold NFTs worth $18 million, whereas deadmau5 successfully stacked up to $2.7 million in NFT sales while raising a seed round for Pixelynx, his web3 music metaverse platform. 
As tokens, NFTs enable music creators to have total possession over their musical creations, often evading the prevalent rights and distribution means associated with conventional record labels. 
During this digital transformation, several established music artists and entrepreneurs are making their way to the space and creating their own NFT record labels to make the most of this gold mine of opportunity. 
This leads us to one primary question: "Is this the start of new music labels, and are these NFT record labels feasible?"
Wellington Lora, The Cueniverse music library's founder who operates with music NFTs, believes that record labels are indeed the future of music. 
This is because it gives creators a chance to release music directly to their beloved fans, with zero middlemen and all the remunerations going now to them. This can be incredibly fascinating for music creators in crowdfunding their profession.
Even though the NFT space continues to be understood and explored by users and developers, as more people create NFTs for music-related purposes, there is significant potential for this particular business model to increase in demand. 
According to Josh Neuman, President of MELON metaverse development studio, the NFT record label industry is in its initial phase. 
When Snoop Dogg launched Death Row Records, he stated he intended to make it into the first NFT major record label, which can allow fans to purchase and sell ownership of artwork, recordings, and many other virtual assets from their most beloved artists signed to Death Row. 
The most effective way to visualize non-fungible music tokens is to think of them as a novel form of media. With 8 tracks, CDs, and cassettes, people often wonder how the digital format would impact the music industry dynamics for fans. 
Music was now more compact for the fans and could easily be played in their car. It could be easily carried with them wherever they went. Moreover, their relationship with music became well ingrained into their lifestyle. 
The next development has some of the most renowned companies, such as Spotify and Facebook, indie artists, and labels, all eyeing a significant chunk of the metaverse pie. 
Likewise, music NFTs will also transform how fans interact with music and how it fits into their lives. Labels can establish new relationships where their fans will have creative input or financial upside to their favorite music artists' creations. 
Just like any cultural shift or new format, it's hard to predict how things will take a turn. However, NFTs can be prepared such that it becomes the next most significant development in music. 
ALSO READ: Why Does The Real World Market Define Crypto As The Wild Wild West?
Sell Your Music NFTs with HenriPay
Are you interested in selling your music NFTs to potential buyers but cannot find the right platform to get started, or can most of your customers not purchase your music NFTs due to insufficient cryptocurrency? 
Luckily, HenriPay allows you to tap into 99% of the potential customers that do not have a cryptocurrency, allowing them to buy your music NFTs. 
Thanks to HenriPay's NFT Checkout feature, your buyers can choose from various payment methods like credit cards, ideal, ban contact, etc., to pay for all your music NFT purchases. 
Contact us now to learn more about the different opportunities for your business, or schedule a free consultation call via henripay.com.